How To Get Away With Murder Incitement Case File #1
Case File #1: Dr. George Richard Tiller (August 8, 1941 –May 31, 2009)
by David Burress
May, 2016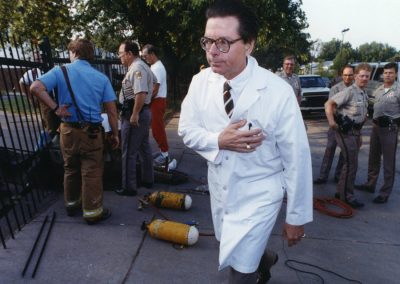 This is the first in a series of case files presenting some of the raw facts, together with some immediate interpretations. I will leave it to the reader to draw any deeper conclusions.
Case File #1: Dr. George Richard Tiller (August 8, 1941 – May 31, 2009)
Thoroughly a Kansan and son of a doctor, Tiller was born and raised in Wichita, received his BA from the University of Kansas, received his MD from the University of Kansas Medical School, and then did a stint in the Navy. Tiller took up an abortion practice largely by accident. He had planned to settle elsewhere, but agreed to help close down his father's medical practice in Wichita after his father and several other family members died in a plane wreck in 1970. The practice had included abortions and Tiller got his stiff Kansas back up when antiabortion activists leaned on him to close the clinic. So he stayed on. Eventually his clinic became one of only three  in the country that performed third trimester abortions. Thus the Kansas location of his abortion practice and hence of his murder was far from inevitable.
a. The persecution of George Tiller
Together with other organizations, two different incarnations of Operation Rescue posted daily picket lines outside Tiller's clinic for many years. Their activities included constant attempts to shame or intimidate Tiller's clients, workers, and suppliers from associating with Tiller. Demonstrators constantly surveilled, followed, and threatened Tiller. His home address was posted on websites suggesting that he should be murdered, and Fox News personalities carried on a national campaign against him, sometimes interviewing OR spokespersons. (Case file #8 will describe the especially intense 1991 "Summer of Mercy" demonstrations.) In 1986 someone pipe bombed his clinic. In 1993 OR demonstrator Shelley Shannon shot Tiller in both arms. She was later sentenced to 31 years in prison for that plus other antiabortion violence. In 1998 the clinic received an anthrax threat. In 2009 OR demonstrator Scott Roeder murdered Tiller. In 2010 Roeder was sentenced to 50 years in prison without parole.
Operation Rescue also made a practice of bringing criminal and professional ethics complaints against Tiller, aided by political allies such as one-term Kansas Attorney General Phill Kline (Case File#5). None of those complaints were ever upheld. For example, Troy Newman states:
We believed that Tiller was making provisions to close his abortion practice in the event he was convicted of the crimes. [Sic; as noted in the next sentence, at that pont in time Tiller faced regulatory but not criminal charges.] . . . Even though Tiller was acquitted on the criminal counts, he still faced license revocation based on 11 counts filed against him by the Kansas State Board of Healing Arts based on our complaint. If Tiller had lived, it is very likely that he would have had his license revoked or he could have retired from practice to avoid discipline. (Operation Rescue, 2011.)
b. Tiller's alleged political influence
Operation Rescue explains its inability to obtain criminal or civil convictions against Tiller as resulting from undue political influence. This claim appears to rest on four utterly inconclusive pieces of evidence:
∙· Tiller made substantial political contributions to Governor Sebelius and to the Democratic Party.
∙ Tiller once won the right to hold a party in the governor's mansion by outbidding others in a charity auction.
∙ The Planned Parenthood Association provided support to Tiller.
∙ Sebelius provided moderate support for abortion rights.
(Commonality of political positions as such is hardly evidence for high-level political interference with the criminal process.1) Thus Sullenger (2010) states2:
In 2005, Operation Rescue took out an ad in a local Christian publication decrying Tiller's "Web of Death" that only touched on his vast political connections that were able to shield him from two grand jury investigations, 30 criminal charges filed by a former state attorney general, and numerous citizen complaints filed with the Kansas State Board of Healing Arts.
His political action committee, ProKanDo, was once considered the largest and most influential in the state. Tiller's personal friendships and political alliances bought him protection in nearly every sphere of government that could potentially hold him accountable to the law. [Tiller's] relationship with former Gov. Kathleen Sebelius was famous, and very nearly cost her an appointment to the Obama Cabinet.
The lengthy and undocumented list of accusations and surmises that follows includes no direct evidence that Tiller's PAC was especially influential with politicians,3 or that Tiller had a personal relationship with Governor Sebelius, or that political connections affected his success at defeating charges in the courts. As evidence to the contrary: after defeating Phill Kline, Democratic Attorney General Paul Morrison continued the prosecutions against Tiller that Kline had begun. Not one Kansas politician had the courage to attend Tiller's funeral. However OR President Troy Newman goes even further and claims that Sebelius's appointments of political moderates to the Kansas Supreme Court constituted an antiabortion conspiracy.4
Tiller's large pro-choice political contributions were a perfectly natural consequence of his personal convictions about abortion rights, doubtlessly intensified by his career-long persecution at the hands of the movement. Indeed, George Tiller had more conspicuously personal reasons to hate and despise the movement than anyone else in the country. By itself, this can't be taken as evidence of anything sinister in Tiller's behavior.
c. Tiller's motives and character
Tiller was hardly a progressive icon. Other than abortion rights and humane patient-oriented medical practice, he avowed no progressive allegiances nor supported any causes I know of. He was a lifelong Republican and a man made rich by his abortion practice (though probably less rich than a majority of Kansas surgeons). He inherited his upper middle class position rather than working his way up from disadvantage. He was reportedly somewhat careless as to his personal security.
Operation Rescue made a small industry of attacking George Tiller as not merely as a doer of evil, but also as a man driven by cruel and mercenary motives. Much evidence from other sources suggests otherwise.5
Thus Cohen (2010) describes her abortion appointment with Tiller's clinic. She was not pressured, was advised she had a week to change her mind, felt that Tiller was the only doctor who took her concerns seriously, and subsequently did overcome her depression and decide against abortion. Adicks (2010) says Tiller's gentleness in dealing with her as an isolated and pregnant 18 year old Catholic rape victim changed her life (after receiving abuse from a rape crisis center that had an unadvertised antiabortion agenda). Friedman (2010) writes:
[Tiller] . . . had a reputation for a kind of saintly bedside manner, for deep patience and the ability to make women feel listened to . . .
George Tiller gave no sign that he was ever unsure about the act he was performing. If there was any doubt, it had never been exhibited. And for anyone who felt doubt on his staff, he handed down an intention to live with: Think about the woman. Because they saved people here. That's what George Tiller was saying. They didn't kill people; they saved them. All you had to do was to look at the walls. Framed letters from patients testifying to having been saved. That's how they described what happened to them. Hearing that was addictive. Everyone admitted that—felt a little guilty about getting off on it, but not too. Cathy and Joan used to wonder what they'd do when they retired and didn't get to feel that thing anymore. Even Roeder had heard about the letters, everyone in the network had; it blew their minds and filled their hearts with disappointment. The letters weren't relegated to a single wall. There was room after room of them, thanking and thanking, overwhelming you the first time you walked into the clinic. Answering the tacit question: No, we save people here.
For similar testimony see Barstow (2009), who describes Tiller as finding adoptive parents to help women avoid abortions and putting women up in his home.
On the other hand, Operation Rescue claims to have contrary testimony. Out of tens of thousands of abortions performed in Tiller's clinic, it is a statistical certainty that on occasion there were bad as well as good medical outcomes, and dissatisfied as well as satisfied clients. Operation Rescue has collected several anecdotes on negative cases at Tiller's and other clinics. (See Case File #2 for a description of the cash rewards or "doctor bounties" OR has offered for similar information about other abortion doctors.) Perhaps the saddest and most compelling such story is OR's (2007) account of Michelle Armesto Berge, who testified to the Kansas Legislature under oath that her underage abortion by George Tiller was rushed, uncounseled, coerced by her parents, and in felonious violation of Kansas laws against late term abortion.6 (Patient confidentiality rules prevented Tiller or his supporters from responding publicly to these and other charges.)
At this distance it is hard to evaluate any individual claims from either side, but the sheer numbers of character endorsements make it unreasonable to assume that Tiller had essentially malevolent motives.
As a not inconsiderable irony, a movement avowedly inspired by the martyred Jesus, together with an assassin who viewed himself as a martyr, caused the death of an opponent viewed as so saintly by his supporters that he will always be seen as a true martyr.7
References
Adicks, April. ("Starfishred"). 2010. "Remembering Dr. Tiller," Welcome to my new world, May 29 (accessed June 2, 2010 at   http://starfishred.multiply.com/journal/item/2847/Remembering_Dr._Tiller) URL no longer valid.
Barstow, David. 2009. "An Abortion Battle, Fought to the Death," The New York Times, July 25 (accessed July 28, 2010 at http://www.nytimes.com/2009/07/26/us/26tiller.html)
Cohen, Alice Eve. 2010. "Dr. George Tiller was pro-life," USA Today, May 28 (accessed May 30, 2010 at http://www.usatoday.com/news/opinion/forum/2010-05-28-cohen28_ST_N.htm)
Friedman, Devin. 2010. "Big Issues—Savior v. Savior," GQ, February (accessed June 9, 2010 at http://www.gq.com/news-politics/big-issues/201002/abortion-debate-george-tiller-scott-roeder)
Gerber, Alan S.; Daniel P. Kessler; and Marc Meredith. 2011. "The Persuasive Effects of Direct Mail: A Regression Discontinuity Based Approach," The Journal of Politics 73(1), pages 140-155 (accessed March 8, 2015 at http://isps.yale.edu/research/publications/isps11-002#.VPzNUPx4rec)
Newman, Troy. 2010. "Troy's Blog: Kansas Conspiracy Theory," August 14 (accessed August 19, 2010 at http://www.operationrescue.org/archives/troys-blog-kansas-conspiracy-theory/)
Operation Rescue. 2007. "Former Tiller Patient Drops Bombshell Testimony Of Illegal, Coerced Abortion on Legislative Committee," September 7 (accessed September 1, 2010 at http://www.operationrescue.org/archives/former-tiller-patient-drops-bombshell-testimony-of-illegal-coerced-abortion-on-legislative-committee/)
Operation Rescue. 2010a. "Troy Newman Speaks on Behalf of Aborted Babies in MSNBC Documentary on Tiller Murder," Press released dated October 18 (accessed October 18, 2010 at  http://www.operationrescue.org/archives/troy-newman-speaks-on-behalf-of-aborted-babies-in-msnbc-documentary-on-tiller-murder/)
Operation Rescue. 2010b. "Abortion Capital, Pt. 3: 'A baby came out and it was moving'," April 30 (accessed February 13, 2011 at http://www.operationrescue.org/index.php?s=%22part+4%22)
Operation Rescue. 2011. "The Battle Lines Have Been Drawn and It's About to Get UGLY!," April 8 (accessed April 8, 2011 at http://www.operationrescue.org/archives/the-battle-lines-have-been-drawn-and-it%E2%80%99s-about-to-get-ugly/)
Sullenger, Cheryl. 2010. "Tiller May Be Gone, But His Web Of Abortion Corruption Remains," April 23 (accessed April 27, 2010 at http://www.operationrescue.org/)URL no longer valid.